| | | |
| --- | --- | --- |
| | | |
| | | |
| --- | --- | --- |
| | | |
B i o g r a p h y
(by Tim Sandra)
The wife-and-husband indie pop duo Tennis pair swooning 1950s pop melancholy with smooth-and-easy '70s soft rock in a beguiling, calming fashion that matches the sailing trips that provide them with inspiration. They formed on a months-long excursion and do most of their songwriting while bobbing on the seas. Patrick Riley helms the guitars and keys, Alaina Moore handles vocals and keys, and they often produce their own records in burnished, mid-fi tones. The band's 2010 debut album, Cape Dory, laid out their sonic template meticulously and they stuck to it for the decade that followed, with occasional tweaks like the more muscular sound of the Patrick Carney-produced Young & Old from 2012, the more sophisticated song structures of 2020's Swimmer, and the radio-friendly sound of 2023's Pollen.

Moore and Riley met while students in Colorado, and after graduating college they bought a sailboat and spent seven months sailing along the Eastern Seaboard. Post-adventure, they moved back to Colorado, and after getting settled they began recording songs that had a modern lo-fi feel but a sweet '50s pop heart. The tracks were inspired by their trip and the discussions they would have about music while on board their boat (the Swift Ranger). Tennis' first single, "South Carolina," was released in the summer of 2010 on Fire Talk Records, to be quickly followed by their second single, "Baltimore," for the Underwater Peoples label. The rest of the year was spent playing shows (including a Daytrotter session in September) and recording their first album. Cape Dory was released in January 2011 by Fat Possum. The band toured tirelessly that year in support of Cape Dory, playing shows across the U.S. as well as jaunts through Europe and Russia.

Following their seemingly endless tour schedule, Tennis quickly regrouped and began work on their second full-length. The album Young & Old was written and recorded in a relatively short three-month span. Produced by Black Keys member Patrick Carney and featuring drums by new bandmember James Barone, the record was released by Fat Possum in February 2012. The group soon switched labels, signing with Mumford & Sons member Ben Lovett's Communion Music before releasing the Small Sound EP on the label in late 2013. The trio returned with their third album, Ritual in Repeat, in the autumn of 2014. More accessible and diverse than previous efforts, the record featured songs produced by Richard Swift, the Black Keys' Patrick Carney, and Spoon's Jim Eno.

Soon after the album's release, Barone left Tennis, and Riley and Moore began working on another album. Finding themselves blocked creatively, they set sail on another journey by sea, traveling from San Diego south past the Baja coast to the Sea of Cortez, where they docked and worked on music for four months. Once back home, they decided to start their own record label, Mutually Detrimental, and in late 2016 released two songs from their upcoming fourth album. The duo handled production chores themselves this time out and were joined on many tracks by their tour drummer, Steve Voss of the band Tetherball. Yours Conditionally was released in early 2017 as the group set out for a long North American tour. They found time to record more songs, too, and issued the We Can Die Happy EP in November.

Tennis spent a year touring behind the album and EP, then took to the seas -- specifically the Sea of Cortez once again -- to begin writing another batch of songs. Once back in their Denver studio, they finished them off and added a wider range of instrumentation, unique time signatures, and more storytelling in the lyrics. All the instruments were played by Moore and Riley, save some strings provided by Josh Zubot and occasional live drums from Voss, who also served as assistant engineer. They also brought in renowned mixer Claudius Mittendorfer to handle that demanding task. The result was their group's fifth record, Swimmer, which was released on Valentine's Day 2020. Unfortunately, the band was forced to cancel their planned tour due to the COVID-19 pandemic. The following year, they released a song, "Borrowed Time," written especially for an episode of Rick and Morty that aired in September 2021. They were able to tour North America in the latter stages of 2021 with Molly Burch, then played a handful of shows in 2022 with Belle and Sebastian. In between live dates, Moore and Riley took a four-month sailing trip during which they wrote the songs for their 2023 album Pollen. Working as a duo with the occasional drumming by Steve Voss, they set out to make a more radio-friendly album that dealt with bigger, more specific emotions.
---
---
---
CAPE DORY
Take Me Somewhere
I get the tiller, you get the line
Crystalline water with manta ray shine
Annapolis ships heel and dip
Swift Rangers' lines clean and sleek

Does the mainsheet remind you of me
Do nautical things make you miss the sea
Make fast the lines, please, don't waste any time
Oh I feel the wind blowing

Sultry in the summer heat
I know with you we can't be beat
Take me somewhere
Take me somewhere
Take me somewhere
Why don't you take me somewhere

Sitting in the sand
Waiting for you to return to land
Sitting in the sand
Waiting for you to return to land

Oh take me somewhere
Take me somewhere
Take me somewhere
Why don't you take me somewhere

Long Boat Pass

Darling, you know I love you, I love you
I'll stay if you ask me to, ask me to

We spent the night at Long Boat Key
It drained the confidence out of me
The littered shoals wait to ensnare
Oh sailor, you had better beware

Darling, you know I love you, I love you
I'll stay if you ask me to, ask me to

Standing there looking so sweet
Tell me that I'm braver than I think

The steep waves breaking were the only sound
Reminding me that we're not aground
You know that I will never forget
The days we spent anchored at

Long boat pass, long boat pass
Let me through is all I ask
Long boat pass, long boat pass
Let me through is all I ask

Please, let me through
We must return to sea
We must make due
The waves crash mercilessly


Cape Dory

Take me out, baby
I want to go sail tonight
I can see the ocean floor in the pale moon light
Oh let's explore the sheltered banks 'til the morning light
And we won't turn back 'til the shoreline is out of sight

We can play in the surf holding hands
And nap through the day on sun bathed sands
We can live on an island of old conch shells
We can listen to the sound of the ocean swells

Do you want to go where it never snows
And the mid-sixties are the extreme lows
Well, I know a place hidden by the sea
We can drift all day in the gentle reef


Marathon

Coconut Grove is a very small cove
Separated from the sea by a shifting shoal
We didn't realize that we had arrived
At high tide, high tide
Barely made it out alive

Red over white, fishermen working at night
Not even once did we see a light
We didn't realize the forecast had been revised
By moonless skies and
Shifty wind that gusts and dies

Oh on the sand our keel is heaving
But tonight we've got to be leaving
Travel through the day and into the evening

Marathon, how long we've been gone
And still not yet set foot upon you
Marathon, how long we've been gone
And still not yet set foot upon you

Your low lying shore opens welcomingly
To one who's spent the night at sea
Adrift in the shallows, a modest repose
Adorn with coral, your bright colors show
Ushered in through a bridge that is never closed


South Carolina

South Carolina where the Cypress grow
White pine and hemlock all seem to know
The tidal sweep through your southern marsh
The squall last night was a little harsh
Your little island lees give us shelter from the seas
What was that ?

The sun is sinking awfully fast
Can we make it last
We can't move on by looking back
Can we make it last

South Carolina really makes a man
If The South can't do it then no one can
The morning breeze is my favorite part
Carry South Carolina deep in my heart
We'll make a family in the quiet country
You and me, in simplicity


Pigeon

Beam reaching for my baby
Close-hauling with my darling
I'll hold the sheet tight
Keeping watch through the night
I will be there
I promise to take good care of you

Beam reaching for my baby
Close-hauling with my darling
I'll be holding you tight
Let you sleep through the night
Oh let the wind blow
We will be safe, I know

I will be there
I promise to take care of you
I will be there
I promise to take care of you


Seafarer

It was a summer day
When you took my cares away
When you whispered to me and it was so sweet
She can blow us off track, so marry me
You found the weathered boat
Ocean ? you would know
When you feel the bow cutting through the waves
No other motion can pass the day

Seafarer, look what you've done
Got me chasing after the sun
I've left my home and friends behind
You've driven me clean out of my mind

Don't tell me when you've set sail
You'd face a number if you could scale
And I know I never learned to set the oar
Nothing left for me back on shore

Will you call on me when you're living on the sea
Will you call on me when you're living on the

Seafarer, I must love you,
Why else would I follow you
I've left my home and friends behind
You've driven me clean out of my mind

Seafarer
You and I belong together
Seafarer
You and I belong
Seafarer
You and I belong together
Seafarer
You and I belong


Baltimore

We can take it, we can make it
These streets can't be tougher than the sea
Baltimore, your potholes bore me
Can't you see you're acting poorly

Can we get a job
Can we get a job
We need off this dock
Is that asking a lot
Can we get a job
Can we get a job
We need off this dock
Is that asking a lot

Now I've seen it all before
When no one's opened up their door
How is one meant to survive when one is over-qualified


Waterbirds

Still dreaming of the thick and green
Salty marsh bed by the tidal stream
Look down the ? sleeping deep in the brush
The night brings the hush, I can hear the current

Beating by the leaves of the Cyprus trees
The insects chirping underneath the leaves
When you kiss me, you really kiss me
Tell me how can you resist me

Did we ever really leave
This is all I really need
Did we ever really leave
This is all I really need
YOUNG & OLD

It All Feels The Same

Took a train to
Took a train to get to you
Finally got there and
I couldn't find you anywhere

We could be good, but we don't live the way that we should
Constantly told we're imperfect and cannot be good

Took a train to
Took a train to get to you
Finally got there and
I couldn't find you anywhere

We could be good, but we don't live the way that we should
Constantly told we're imperfect and cannot be good
Tired of waiting around for you to intervene
Tired of wishing that you even knew what I mean

When I say your name, I look for a change
But everywhere I go, it all feels the same
When I say your name, I look for a change
But everywhere I go, it all feels the same
When I say your name, I look for a change
But everywhere I go, it all feels the same
When I say your name, I look for a change
But everywhere I go, it all feels the same

We could be good, but we don't live the way that we should
Constantly told we're imperfect and cannot be good
Tired of waiting around for you to intervene
Tired of wishing that you even knew what I mean

Origins

A sensitive heart
You're doomed from the start
Meant to play the penitent part
Inquisitive mind, you're destined to find
Tempted fate, a knowledge divine

Here and there, a pitied pair
Denoted by a scene unfair
Will you make my children bear
The consequences everywhere

Is it so hard to forgive
The way we've been made to live
How much is required to set things right
Have you confused your power with might

Here in there, a pitied pair
Denoted by a scene unfair
Will you make my children bear
The consequences everywhere

Imminent, you seem to be
A picture of fragility
What is it that you think of me
Is it a woman that you see

Is it so hard to forgive
The way we've been made to live
How much is required to set things right
Have you confused your power with might

Is it so hard to forgive
The way we've been made to live
How much is required to set things right
Have you confused your power with might

My Better Self

My better self still knows
That meaning comes and goes
What is innate, I do not know
But meaning comes and it goes

Each and every attempt
A bit of substance spent
Despite the effort I have lent
You seem to lose what I've meant

If I don't use words then each sound goes unheard
Utterly senseless without nouns and verbs
Symbols suggest they are fit to posses
A purpose and function that cannot be met

Those who create it know
There is an ebb and flow
Of neither value given shows
That meaning comes and goes

My better self still knows
That meaning comes and goes
What is innate, I do not know
But meaning comes and it goes

If I don't use words then each sound goes unheard
Utterly senseless without nouns and verbs
But symbols suggest they are fit to posses
A purpose and function that cannot be met

If I don't use words then each sound goes unheard
Utterly senseless without nouns and verbs
But symbols suggest they are fit to posses
A purpose and function that cannot be met

My better self still knows
That meaning comes and goes
What is innate, I do not know
But meaning comes and it goes

Traveling

Now with your hand in mine
The heat strikes me as divine
Seated here by my side
The day blurs into the night

How is it you seem to know what I try not to show

This must be rare
'Cause nothing else could compare
Not that I'm aware of
This must be rare
'Cause nothing else could compare
Not that I'm aware of

Seems like we traveled for days though we've been a short way

Tell me where you mean to go
Darling, can we take it slow
Let's not stop, please, let's go
Say you're mine
Say it slow to be sure we know

Across the saccharine plain
Cracked and devoid of rain
I think of life without pain
To hide my hopefulness is a strain

How is it you seem to know what I try not to show

This must be rare
'Cause nothing else could compare
Not that I'm aware of
This must be rare
'Cause nothing else could compare
Not that I'm aware of

Seems like we traveled for days though we've been a short way

Tell me where you mean to go
Darling, can we take it slow
Let's not stop, please, let's go
Say your mine
Say it slow to be sure we know

Petition

I prefer to think of him as a man of many means
Of powers extreme, exposed to the extreme
Nature so determined, he may never change his mind
The only possible excuse for pretending to be blind

Petition for a life unknown
To all my predecessors shown
No, no
Petition for a life unknown
To all my predecessors shown
No, no

I can't know the why of this, his motives are mysterious
His anger extreme, exposed to the extreme
Has he a hidden past, my memories, they don't go back
Enough to remember what I'm supposed to lack

Petition for a life unknown
To all my predecessors shown
No, no
Petition for a life unknown
To all my predecessors shown
No, no

For those who've never had, you keep coming back
You take, take, take away 'til the very last
For those who've never had, you keep coming back
You take, take, take away 'til the very last

Petition for a life unknown
To all my predecessors shown
No, no
Petition for a life unknown
To all my predecessors shown
No, no
Petition for a life unknown
To all my predecessors shown
No, no
Petition for a life unknown
To all my predecessors shown
No, no

Robin

Why did you ever leave today
Now you've been blown miles away
You took a chance leaving at first glance
You can blame it on your circumstances
You set off on a simple lark
Meant to be home long before dark

Now you see that
All was not as it seemed
A fate you can't believe

Then I glimpsed you as you lighted near
Cautiously began moving near
And I can't be sure if you can hear me
Now you can rest your tiny feet
Tuck away and rest your tired wings

Now you dream
A world perfectly green
Too lovely to believe

Seeking shelter from the wind
It blows with strength that has no end
So small you seem within my hand
You gather strength to leave again

The storm is strong
But you carry on
And now it's gone

Seeking shelter from the wind
It blows with strength that has no end
So small you seem within my hand
You gather strength to leave again

High Road

At Jewish Creek, they come to meet
Weathered and edged by the summer heat
The sun is always in their eyes
They hold their glasses like a prize

On Aquatic Fare And Gin they dine
They're always losing track of time
A swampy mangrove paradise
They import everything that's nice

Comfort is a word rarely heard
Wages are transient, they look
For opportunity to grow
But better times, they never show

By now their dreams have all been dreamt
All of their money has been spent
The crashing surf upon the ground
And no one ever hears a sound

A life of middling at best
Put that potential to a rest
Was it a choice they do not know
But better times, they never show

Paradise is all around
But happiness is never found
Paradise is all around
But happiness is never found

Dreaming

I've searched high and low
I've looked deep inside
But how can I know
For such a long time
I've hoped for a sign
That one day I'd find
Within and without
Inside and out
I haven't a doubt
Your meaning contained
Your value displayed
By speaking your name

You revealed yourself in a dream
Then you told me how to believe

Dreaming, I'm dreaming
I can still believe in
I'm dreaming I can still believe in you

I've searched high and low
I've looked deep inside
But how can I know
For such a long time
I've hoped for a sign
That one day I'd find
Within and without
Neither inside and out
I haven't a doubt
Your meaning contained
Your value displayed
By speaking your name

You revealed yourself in a dream
Then you told me how to believe

Dreaming, I'm dreaming
I can still believe in
I'm dreaming I can still believe in you

Dreaming, I'm dreaming
I can still believe in
I'm dreaming I can still believe in you

I'm dreaming, I'm dreaming
I can still believe in
I'm dreaming I can still believe in you

Dreaming, I'm dreaming
I can still believe in
I'm dreaming I can still believe in you

Take Me To Heaven

There's nothing left for me
There's nothing left for me
So far as I can see
There's nothing left for me

As a child I was told
We all possess a soul
And wonder when I'm old
I'd wish I'd been more bold

Oh my mistakes, imperfections, they make me
Long for a place where they can't overtake me

There's nothing left for me
There's nothing left for me
So far as I can see
There's nothing left for me

But if you're only passing through
Then, please, don't forget when you do
If you're only passing through
Then take me to heaven with you

I've never believed in what I can't see
Oh if all you say is true
Then take me to heaven with you

When I pass away
All this will fade away
My promises are made
I know I may not stay
When I pass away
All this will fade away
My promises are made
I know I may not stay

There's nothing left for me
There's nothing left for me
So far as I can see
There's nothing left for me

But if you're only passing through
Then, please, don't forget when you do
If you're only passing through
Then, please, don't forget when you do
If you're only passing through
Then take me to heaven with you
If you're only passing through
Then take me to heaven with you

I've never believed in what I can't see
Oh if all you say is true
Then take me to heaven with you

Never To Part

Little virgin, clean and bright
Milk white skin hidden from night
Unblemished are your private thoughts
Desire can't oppress your lot

Puerile movements that you make
Will not make men hesitate
Lest your charms are all revealed
Then your power you may wield

Do not furrow that perfect brow
Chaste lips never to part till now
Do not furrow that perfect brow
Chaste lips never to part till now

Child, all of this we have done for you
Child, we are only thinking of you

Little virgin sweetly made
Knows not of the plans we've laid
Guard the fragile flickering light
To extinguish as we like

Free from every wicked thing
You'll receive a diamond ring
Pre-pubescent wedding bed
Thereupon you lay your head

Do not furrow that perfect brow
Chaste lips never to part till now
Do not furrow that perfect brow
Chaste lips never to part till now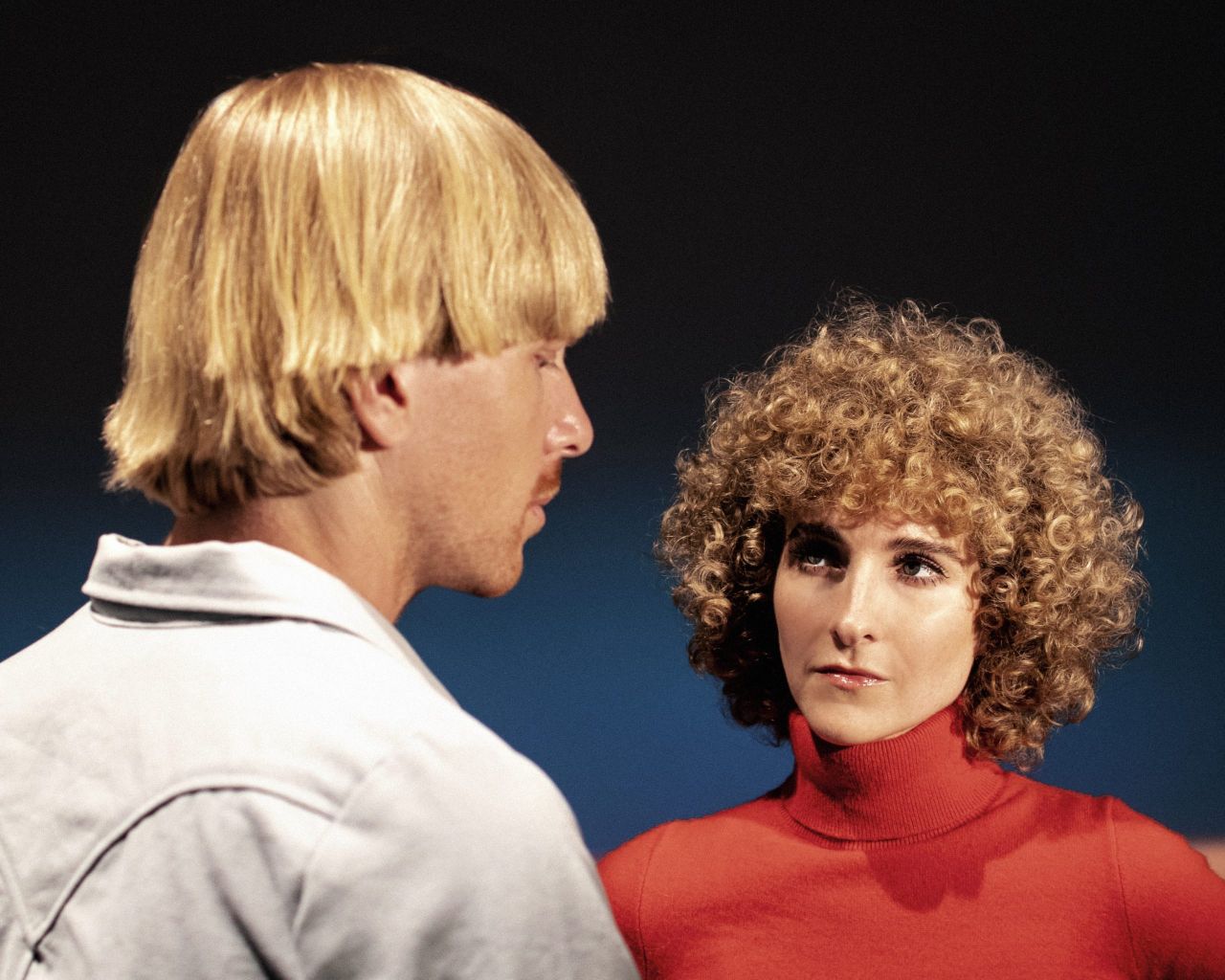 RITUAL IN REPEAT

Night Vision

The taste of sweet wine
The way you keep time
Makes me feel light

Don't trust your magic
Can't change your habits
So let's be light

The way you hold me
Careful unfolding
Makes me feel light

It's not surprising
We go on rising
All through the night

Looking past the streetlights
See the colors, they obscure
Straining your night vision
For a chance to pierce the heavens
In the darkened light
Wandering through the moonlight
Feel the softness of the air
Sleeping in the shadows of the heavens
So expansive in the waning light

The taste of sweet wine
The way you keep time
All through the night

Don't trust your magic
Can't change your habits
So let's be light

Looking past the streetlights
See the colors, they obscure
Straining your night vision
For a chance to pierce the heavens
In the darkened light
Wandering through the moonlight
Feel the softness of the air
Sleeping in the shadows of the heavens
So expansive in the waning light

I knew all the love songs
I knew all the love songs
I knew all the love songs
I knew all the love songs
I knew all the love songs
I knew all the love songs
I knew all the love songs

Looking past the streetlights
See the colors, they obscure
Straining your night vision
For a glimpse of something pure
Wandering through the moonlight
Feel the softness of the air
Sleeping in the shadow of the heavens
So expansive in the waning light

Never Work For Free

I never work for free
No, I can't give up what never belonged to me
I never work for free
Like an incantation, I've been repeating

Looking back from the outer edge
I'm still the same
Looking back from the outer edge
I changed my name
Just to stay the same
Just to stay the same

Fell in love with a traveling man
I'll make him mine, do whatever I can
Fell in love with a traveling man
I'll make him mine, do whatever I can
Got me looking for love
Got me looking for love

A little sympathy
Goes a long way, but it never comes easily
Even a young girl knows
That the first snow lands right where the cold wind blows
A single syllable contained my history
Never knew one word could mean so much to me

Fell in love with a traveling man
I'll make him mine, do whatever I can
Fell in love with a traveling man
I'll make him mine, do whatever I can

Touching me with such sweet blindness
Hiding where our past can't find us
You're the vine, you are the door
But, baby, I need more
I can't live on metaphors
Oh baby, I need more

Fell in love with a traveling man
Gonna make him mine, do whatever I can
Fell in love with a traveling man
Gonna make him mine, do whatever I can
You got me looking for love
You got me looking for love

Needle And A Knife

She works hard, does it all without complaining
She believes that sacred things don't need explaining
And the mind is elevated
Though the body devastated
Leading a life of sweet sacrifice, yeah
Armed with nothing but a needle and a knife

Only a lonely love can devour you
But when you're lonely
The same love empowers you, yeah

She foresees apocalyptic Earth split open
She believes in something she can put her hope in
It's the holiest fixation
And it's taken cultivation
A pioneer in a foreign land, yeah
She's devoted to a real good man

Only a lonely love can devour you
But when you're lonely
The same love empowers you, yeah

I'm Callin'

Tonight I'll trace a fragile curve
The dim horizon that you serve
Holy movement, holy sound
A whisper rising from the ground

It's saying, "Let me in, I'm calling"
Come on and let me in, I'm calling
Can you feel it, night is falling
I'm calling, I'm calling

And now I hear your voice
Like a soft ringing
And all at once it seems
Like you've been singing to me

Just when I think that you're mine
You start to slip away
But your love is divine
You know I'm coming for ya
When I think that you're mine
You start to slip away

Let me in, I'm calling
Come on and let me in, I'm calling
Can you feel it, night is falling
I'm calling, I'm calling

Just when I think that you're mine
You start to slip away
But your love is divine
You know I'm coming for ya
When I think that you're mine
You start to slip away
But your love is divine
I hear you calling
When I think that you're mine
You start to slip away
But your love is divine
You know I'm coming for ya
When I think that you're mine
You start to slip away
You slip away
You slip away
You slip away

Bad Girls

Even bad girls can do good things
Even bad girls have holy dreams
Oh I, I'm not so transparent
My intentions, they ain't so apparent

Bad girls, bad girls, bad girls, bad girls

Even bad girls have tender hearts
Even bad girls can fall apart
In the night, oh I am transformed
By the next day, I've been reborn

If it were physical, it would show
If it were spiritual, I would know
If it were physical, it would show
If it were spiritual, I would know

There is a need always dividing me
From all things that I've been hiding

The truth, you know, I'll never find
I'll never have any peace of mind
It's true, I know, I'll never find
I'll never have any peace of mind

If it were physical, it would show
If it were spiritual, I would know
If it were physical, it would show
If it were spiritual, I would know

You know I love a good ceremony
That's why I chose matrimony
Oh I never want to feel ashamed
I just can't bear that kind of pain

There is a need always dividing
From all the things that I've been hiding

Bad girls, bad girls, bad girls, bad girls
Bad girls, bad girls, bad girls, bad girls

Timothy

Jot some things down on a list
Under the header, "Things to Fix"
It's wrong, I know, but I can't let go
You were always quick to judge
Baby, you were slow to love
It hurts, I know, but I can't let go

Timothy, say something sweet to me
Say it slowly until you believe
Tell me that you find increasingly
Elements of merit within me

Seems like nature cannot help
But incriminate itself
It's hard, I know, but I can't let go
Baby, you are either-or
And I'm the other at the door
It's wrong, I know, but I can't let go

Timothy, say something sweet to me
Say it slowly until you believe
Tell me that you find increasingly
Elements of merit within me

Hard heart will make a man blind
And a hard heart gets harder with time
It's wrong, I know, I can't let go
Hard heart will make a man blind
And a hard heart gets harder with time
It's wrong, I know, I can't let go

Timothy, say something sweet to me
Say it slowly until you believe
Tell me that you find increasingly
Elements of merit within me

Hard heart will make a man blind
And a hard heart gets harder with time
It's wrong, I know, I can't let go
Hard heart will make a man blind
And a hard heart gets harder with time
It's wrong, I know, I can't let go
Hard heart will make a man blind
And a hard heart gets harder with time
It's wrong, I know, I can't let go

Viv Without The N

I ain't afflicted with a mind
That's either feminine or kind
Our history is incomplete
Your memory's been cruel to me
Oh darling, now the way is so far
And it won't come easily
The way is so far back to me

Oh I ain't looking to back you up
Oh I ain't looking to back you up
Oh I ain't looking to back you up

Below the Earth, the dark roots clutch
But I know that don't count for much
A classified to bring you home
Make you a lover of my own
Oh darling, now the way is so far
And it won't come easily
The way is so far back to me

Oh I ain't looking to back you up
Oh I ain't looking to back you up
Oh I ain't looking to back you up

Oh I ain't looking to back you up
Oh I ain't looking to back you up
Oh I ain't looking to back you up

Wounded Heart

Here bring your wounded heart
Here tell your anguish
Earth has no sorrow
But your love can remove

Watcher is at the gate
An eager listener
Words long forgotten
That may be exhumed

Steadfastly keeping, you are so resolute
When my ideas rush in pell mell
And your look does not bear a reprove
Your look does not bear a reprove

Here bring your wounded heart
Here tell your anguish
Come my disconsolate
And be renewed

Steadfastly keeping, you are so resolute
When my ideas rush in pell mell
And your look does not bear a reprove
Your look does not bear a reprove
Your look does not bear a reprove

This Isn't My Song

If it's not the end, then it's the means
That's your way of doing things

Only simple melodies
Find their way into your memory
This will never be my song
This one was meant for you all along
It's nothing profound, just a sweet sound

If it's not the end, then it's the means
That's your way of doing things

Stacks of paper mute and white
Lay neglected in the glaring light
I will always be your girl
In the still point of the turning world
But this isn't my song
This isn't my song
It's nothing profound, just a sweet sound

If it's not the end, then it's the means
That's your way of doing things

If it's not the end, then it's the means
That's your way of doing things

If it's not the end, then it's the means
That's your way of doing things

Solar On The Rise

I will be your history
I'll be the blame
Like the sacred mysteries
They're all the same
Dark, I roam like plants that throw
Their fragrance round
Roots that clutch
Thread through the dust
Below the ground
Silver moon is turning
Now I feel the glow burning

Lift your burdens high
My solar on the rise
Lift your burdens high
My solar on the rise

See a miracle, but
My baby don't believe
If that gift is given
You better not receive
There's a hymn within
Sing it over and again

Lift your burdens high
My solar on the rise
Lift your burdens high
My solar on the rise
Lift your burdens high
My solar on the rise
Lift your burdens high
My solar on the rise

Lift your burdens high
My solar on the rise
Lift your burdens high
My solar on the rise

Meter And Line

Some things just slip from my mind
Sweet memories leave me blind
Just like a love song meant for the dead
How should the rite be read

I remember the warm embrace
I remember the way you taste in my mouth
Speak to me in three-quarter time
Oh my love is a slave to meter and line

Oh glorious, oh glorious, oh glorious

Hope of my heart a'trembling
Like a winter flowers cold springing
I see her lying there unchanged
Drifting along the astral plane

Even as she was growing thin
You could still find her looking into my mind
Heavy voice with a velvet look
There's a stillness in place of breath that she took

Closer to me than my anatomy
Some things just slip from my mind
Closer to me than my anatomy
Some things just slip from my mind
YOURS CONDITIONALLY

In The Morning I'll Be Better

I'll write your cares away
That I might spare you pain
Let everybody say that I'm gone for ya
Say you're my baby, we're sublimating

I'll write a hymn again
(I'll write a hymn again)
I'll be your woman (woman)
Keep on believing in our own healing, oh baby

I'll wrap myself around
You where we can't be found
I'll hide you from the world till we're forgotten
Say you're my baby, we're sublimating

I'll write a hymn again
(I'll write a hymn again)
I'll be your woman (woman)
Keep on believing in our own healing, oh baby

In the morning, I'll be better, better, yeah
In the morning, I'll be better, better, yeah
Through our bodies have betrayed us in a million different ways
In the morning, I'll be better, better, yeah

My Emotions Are Blinding

Women are much closer to nature
So but can't you understand
Binary opposition hits me like a divine plan

I get hysterical, it's empirical
I get hysterical, it's empirical

My emotions, they are blinding
This is one night I can't go on surviving
Tell me one truth worth confiding
Baby, don't you know that my love is binding
My emotions, they are blinding
This is one night I can't go on surviving

Strike me like a sacred vision
If the night goes exactly as planned
I'll be giving all my attention
To the world's most interesting man

I'm just a vehicle for the material
I'm just a vehicle and I won't be back again

My emotions, they are blinding
This is one night I can't go on surviving
Tell me one truth worth confiding
Baby, don't you know that my love is binding
My emotions, they are blinding
This is one night I can't go on surviving
Tell me one truth worth confiding
Baby, don't you know that my love is binding

It's metaphorical for the categorical
It's metaphorical for the categorical
I get hysterical, it's empirical
I get hysterical

Fields Of Blue

Follow me into sweet fields of blue
Moving right in to deliver you
Follow me into deep fields of blue
Moving right in to
Delivering me to you

I really love you, what could I do
I really need you, oh what's the use in resisting
I really love you, I cannot help myself
I really need you, oh what's the use living without

Follow me into infinite blue
All of the meaningless interludes
Every wave that rises in place
Strikes with a pattern
Obliterating me and you

I really love you, what could I do
I really need you, oh what's the use in resisting
I really love you, I cannot help myself
I really need you, oh what's the use living without

You and I only over one hundred stories
Maybe I'm dreaming, feel a bit like oblivion
You and I only over one hundred stories
Maybe I'm dreaming, feel a bit like oblivion

Ladies Don't Play Guitar

Ladies don't play guitar
Ladies don't get down, down to the sound of it
Maybe we can play pretend
Baby, I can go down deep just to be what you're needing

Ladies just need your love
Don't you know we are all caught up in it
Baby, I've been listening
I can be the archetype of whatever you're feeling
What you're feeling

Maybe then I can try and give my love again
We pretend I can be the one that you've been dreaming

Tell me what can I give
If all my work is oblique and abstracted
Try to build a legacy
That will not complicate the future of your own progeny

Maybe then I can try and give my love again
We pretend I can be the one that you've been dreaming

You will, but I won't
You will, but I won't
You will, but I won't
You will, but I won't

Maybe then I can try and give my love again
We pretend, I can be the one that you've been dreaming

In the end, I decide how much my love can bend
We pretend I can be the one that you've been dreaming

Matrimony

Haven't got the time for vain excuses
Let me lead you to the cool spring bubbling
There we linger till you fill right up
Parted lips instead of paper cups

Long lashes curling on your cheek
Hide your gaze, so I don't catch you looking at me
Spreading out into the tiny spaces
Emanating from your sweet embraces

But I feel your burning look
Oh my God, it feels so good
Oh yeah

Sweet summer morning early in July
Sweet summer morning when you made me your wife

Doesn't matter if we're rich or poor
The less we have, it makes me love you all the more
I'm not waiting for some twist of fate
To tell me that our lives interlacing

But I feel your burning look
Oh my God, it feels so good
Oh yeah

I'll wear the dress that my sister made
And the blunt haircut your dull scissors gave me

Sweet summer morning early in July
Sweet summer morning when you made me your wife
Sweet summer morning early in July
Sweet summer morning when you made me your wife
Sweet summer morning early in July
Sweet summer morning when you made me your wife

Baby Don't Believe

I never got over childish dreaming
Guess I left my head up in the clouds
I never accepted all your reasons
Let me think it over with a hand to hold

Standing alone, standing alone, lonely wingman
I will wait in the background
Working alone, working to hold in this feeling
Give me your hand, make me a man if you mean it

I will wait for you, baby
I will go where my body is leading
I never accepted all your reasons
So give me your hand, make me a man in the heat of the evening

Do you remember all the trouble
I never wanted to be seen
How it all ended in a moment
When you took my hand and let me hold it freely

Standing alone, standing alone, lonely wingman
I will wait in the background
Working alone, working to hold in this feeling
So give me your hand, make me a man if you feel like you mean it

Happiness leaves me yearning
Tell me that you feel it too
If you see me hurting, you'll know
Happiness can leave you cold

Standing alone, standing alone, lonely wingman
I will wait in the background
Working alone, working to hold in this feeling
Give me your hand, make me a man if you mean it

I will wait for you, baby
I will go where my body is leading
I never accepted all your reasons
So give me your hand, make me a man in the heat of the evening

Standing alone, standing alone, lonely wingman
Working alone, working to hold in this feeling
Feeling the earth, feeling my worth and I'm reeling
Giving it up, living it up like I mean it

Standing alone, standing alone, lonely wingman
Working alone, working to hold in this feeling
Feeling the earth, feeling my worth and I'm reeling
Giving it up, living it up like I mean it

Please Don't Ruin This For Me

Have you heard a serpent speak
Would you lift a veil to take a peak
Hold a mirror up to me
Mirror back my unbelief

Please, don't ruin this for me
I have everything I need
Please, don't ruin this for me
I have everything I need, yeah

Build an alter stoke the flame
Speak half truths that sound arcane
All my dreams so deeply hidden
Rise up to my throat unbidden
All the comforts I forsake
Like afterlives and divine fate

Forge your own way merrily
Fill the world with new meaning

Please, don't ruin this for me
I have everything I need
Please, don't ruin this for me
I have everything I need, yeah

10 Minutes 10 Years

You could have me for ten minutes
You could have me for ten years
I could lose you in the hours
I could lose you in the tears

The feeling's lost without you, oh my baby
Without you, oh my love
The feeling's gone completely

Those who measure time and distance
Haven't known a love like mine
There is only perfect closeness
Don't you leave it all behind

The feeling's lost without you, oh my baby
Without you, oh my love
The feeling's gone completely

The feeling's lost without you, oh my baby
Without you, oh my love
The feeling's gone completely

The feeling's lost without you, oh my baby
Without you, oh my love
I lose myself completely

What have I got without you...

You could have me for ten minutes
You could have me for ten years
We are only single moments
Strung together and held dearly

Modern Woman

Kate, I'm so afraid you'll hate me
I think I might have made it true
There's no need to implicate me
You would never want one for proof

All I want is comfort in a touch or a look
All I want is to get back the closeness you took
I know, that's the way you appreciate me
Even though we haven't spoken lately

I think I might have made it real
I think I might have made it so real
I think I might have made it real
I think I might have made it so real

Kate, I know a modern woman
By the look and by the feel
We both got imposing figures
Getting good at striking raw deals

All I want is comfort in a touch or a look
All I want is to forget the way you mistook
No, I'm not asking for forgiveness
I'm just getting tired of living with this

I think I might have made it real
I think I might have made it so real
I think I might have made it real
I think I might have made it so real
I think I might have made it real
I think I might have made it so real
I think I might have made it real
I think I might have made it so real

I think I might have made it real
(All I want is comfort in a touch or a look)
I think I might have made it so real
(All I want is to get back the closeness you took)...

Island Music

Why can't I cry
I've been trying every day
Why can't I cry
I keep sighing through a haze
The earth in bloom
It's delicate and new
But, baby, I'm unmoved by you
Unmoved

Why can't I cry
Wings are flying 'cross the sky
Why can't I dream my way
Through the living and breathing and living like a daze
The earth in bloom
It's jealous and new
But, baby, I'm unmoved by you
Unmoved

I feel the prolapse of my heart
Tends to tear the night right apart
On our faces in the spring
Never to feel a thing
I cannot cry
Cannot cry
Cannot cry
SWIMMER

I'll Haunt You

As the sun slips over my shoulder
I can tell I've been getting older
Drawn to you like the horizon
I'm the first one to break the silence

I can tell I've been getting
I can tell
I can tell I've been getting
I can tell

As the sun blips over my shoulder
All my need is pulling me closer
Only you make this rock spinning
Off to nowhere, much more appealing

On the edge of the earth
On the crest of a wave
How long can we stay like this
Leaning in for one more kiss
I'm holding you so long
I will haunt you when I'm gone

Need Your Love

Baby, I'm fated, but you will be waiting
I will have made it, but you'll be explaining
What you think the world owes you

Looking for someone to carry you into
Futures that beckon, but need to be followed through
I hope you're happy, I hope you're pleased
I thought you were a victim, but it's clear to me

I need your love and I need your touch like
I need a bolt of lightning from the sky above
I've been thinking about you, thinking about you
I can't escape you
Thinking about you, thinking about you
I can't escape you

Talking a lot like a prophet, but there's no
Wisdom in what you've been saying
And I can't seem to get a read on you
Burning your bridges and spreading around those
Rumors that sprout from the cracks in the ground, oh no
I hope you're happy, I hope you're pleased
I thought you were a victim, but it's clear to me

Baby, you've got more poison than sugar
Baby, you've got more poison than sugar
Baby, you've got more poison than sugar
Baby, you've got more poison

I need your love and I need your touch like
I need a bolt of lightning from the sky above
I've been thinking about you, thinking about you
I can't escape you
Thinking about you, thinking about you
I can't escape you

Oh who could blame me
Every time I hear your name, I go crazy
Oh pretty baby
Every time I hear your name, I go crazy

I need your love and I need your touch like
I need a bolt of lightning from the sky above
I've been thinking about you, thinking about you
I can't escape you
Thinking about you, thinking about you
I can't escape you

I can't escape you...

How To Forgive

You take your love so freely
Can't you go easy on me
Hard to resist, harder to give up like a habit
Why do you go losing control
What are you looking for

All this noise when I need silence
Love shouldn't feel like violence
Swallow your pride, open up wide
Let the whole world in
Empty again, punish a friend, make 'em all suffer
It's so easy
I can't help it

How could I disguise the way that I'm feeling
I've got my reasons, I could give you a million
How could I disguise the way that I'm feeling
I've got my reasons, I could give you a million

My mind has been divided
And I've been questioning myself
Can't keep on hesitating
It's starting to affect my health

Hard to resist, harder to give up bad habits
Why do I go losing control
What am I looking for
It's so easy
I can't help it
I can't help it
I can't help it
I can't help it

Oh I know that I can't control
But it's so hard to let it go
All the worries, they keep coming back
And the disappointments from our past
I can't help it

How could I disguise the way that I'm feeling
I've got my reasons, I could give you a million
(I can't help it)
I'd move on if I could only remember
All that it takes is just an act of surrender
(I can't help it)
How could I disguise the way that I'm feeling
I've got my reasons, I could give you a million
(I can't help it)
I'd move on if I could only remember
All that it takes is just an act of surrender
(I can't help it)

I can't help it
I can't help it

Runner

Runner, I know you're living with a wild hunger
Let me make the most of us
You know you'll never be a runner
And leave me in a cloud of dust
Living in the same old sin
I feel it blowing in the wind
Like manna in the desert oh
Gonna take a miracle

Every little bead of sweat
Feel it running down my neck
When you look at me like that
Feeling like we can't go back
If I become a pillar of salt
I'll know that it was all my fault
Every little bead of sweat
Every little bead of sweat

Runner, you're just a bottomless pit of hunger
Lead me to the promised land
Your manna is only a famine
Wandering the desert oh
Gonna take a miracle

Every little bead of sweat
Feel it running down my neck
When you look at me like that
Feeling like we can't go back
If I become a pillar of salt
I'll know that it was all my fault
Every little bead of sweat
Every little bead of sweat

Let me make the most of us
You know you'll never be a runner
And leave me in a cloud of dust
Leveled in a burning heat
Red Sea devouring me
Flowing over my stoned-soul

Gonna take a miracle

Every little bead of sweat
Feel it running down my neck
When you look at me like that
Feeling like we can't go back
If I become a pillar of salt
I'll know that it was all my fault
Every little bead of sweat
Every little bead of sweat

Echoes

Finally found a place to lay my head
Looks so good from down here on this hospital bed

I'll be the one to be undone
I'll go where the sun isn't shining
Once I was young, those days are long gone
Suddenly I'm thirty-three and on a gurney

Apologies and obligations
All the myriad sensations compounding
Echoes in my brain
Echoed in refrain
Always a replay

Like a Grecian tragedy
Oh where the time goes
Who really knows
You said, "Get a doctor, my wife's going under"

She's off where the sun isn't shinning
I thought I would argue or cleverly bargain
It looks like I won't be going down stoically
Oh to love you and be loved
To have the final memory of you compounding

Echoes in my brain
Echoed in refrain
Echoes all the same way, away

Oh where the time goes
Who really knows

Swimmer

Some summer you have planned for me
Look at all these tourists as they flock to the sea
Getting in the water like it's nothing
But it's not without a consequence
I hear it comes quite naturally
But that description doesn't fit with me
Not going over, never going under
Not without a consequence
The narrows, the river empty into the sea

Some summer you have planned for me
Emptied into the sea
Some summer you have planned for me
Emptied into the sea

Such a good man had a good job
I'd take up swimming for the patriarch
Now dispersed so casually like sediment in the sea
The swollen moon all flushed with red
One eclipse from the bay of the dead
It ain't right, I'm telling you
It's more than coincidence

One stroke at a time on my way back to land
It's better for me with my feet in the sand

Some summer you have planned for me
Emptied into the sea
Some summer you have planned for me
Emptied into the sea

Tender As A Tomb

With my heart in my throat and the sun in my face
Lying here in your arms, I know this is the place
I would never try to explain how it felt when we kissed
Courting reason in dreams while my body resists

I know my logic can lose you
But I think that we can get used to

My footsteps over the concrete blistering in June
My heart leaps over the concrete
Oh I live for you
Each footstep over the concrete, tender as a tomb
My heart leaps over the concrete
Oh I live for you

With my throat in my heart and my face on the sun
In your arms, I will lay till my dreaming is done
Buried under mountains of earth
On the crest of a wave
Courting reason in love is a terrible waste

I know my logic can lose you
But I think that we can get used to

My footsteps over the concrete blistering in June
My heart leaps over the concrete
Oh I live for you
Each footstep over the concrete, tender as a tomb
My heart leaps over the concrete
Oh I live for you
Oh I live for you
Oh I live for you
Oh I live for you
Oh I live for you

Late Night

Late night carried by the wind
It took such a long time to make up my mind
Everything is changing, but I would not attempt to control you

I never could help myself, I waste my time
It's taking a toll on my health, I waste my own time
Like Mary Magdalene, I'm on my knees again
But if you see me as a saint, you'd be mistaken

Late night turning into morning blue
It took such a long time to make up my own mind about you
Now the sun hangs heavy and I cannot even lift my eyes
To where it sits indifferently, unmoved mover of the sky

I never could help myself, I waste my time
It's taking a toll on my health, I waste my own time
Like Mary Magdalene I'm on my knees again
But if you see me as a saint, you'd be mistaken

I am the master of my ship, my ship the master of the sea
Through a rhetorical distinction, I think I'm finally feeling free
For the first time
For the first time

Matrimony II

I only have certainty when you hold my hand
There's so much that I don't understand
Baby, we've been orbiting each other helplessly
I guess that I blacked out, but remembered to move my mouth
So much for my vows, more concerned with here and know

No one knows of love that's slow held like the longest breath
Or the gentle pull of gravity that's being unto death
I can't go on living with a spark that's only flickering
I only want that tenderness with every moment left

I could never find something better
I even changed my name
By my side in every kind of weather
I'll never be the same
I could never find something better
I even changed my name
By my side in every kind of weather
I'll never be the same

"Come closer," you say
Black cats in the neighborhood
Aren't necessarily a sign of something
You know me so well
There goes the neighborhood
Let it all go burning down around us

No one knows of love that's slow held like the longest breath
Or the gentle pull of gravity that's being unto death
I can't go on living with a spark that's only flickering
I only want that tenderness with every moment left

I could never find something better
I even changed my name
By my side in every kind of weather
I'll never be the same
I could never find something better
I even changed my name
By my side in every kind of weather
I'll never be the same
POLLEN

Forbidden Doors

What's another highway, I can't explain it
Can't help the way it takes us over (can't overthink it)
Cut through the silence, I've got no patience (all that I needed)
We're knocking on forbidden doors

First time that our eyes met
Never thought I could regret
Taken down in two steps, baby
Curled up in the backseat
Palms pressed out of concrete
Take it down, take two steps, baby

I know that it's over, but it took me forever
So consumed I could nеver understand it
Taking me ovеr, I got lost in the logic
Got caught up in the logic I've been spinning

Can't overthink it, I get caught up
And all that I needed (right here with me)
When you and I go knocking on forbidden doors
That's when we go falling through the floor

First time that our eyes met
Burned right through a sunset
Take it down, take two steps, baby
Curled up in the backseat
Palms pressed, feel my heartbeat
Take it down, take two steps, baby

Now that it's over, burned past in a fever
Like a true unbeliever, I've got questions
Taking me over, I got lost in the logic
Got caught up in the logic I've been spinning

I can't get back everything I lost
You know I can't begin to count the cost
The sun's coming out, but it's raining soon
I got nine lives that I'm running through
I can't get back everything I had
Like every question that I've asked
The sun's coming up, but the rain comes fast
I'd turn to salt if I look back

What's another highway, I can't explain it
Can't help the way it takes us over (can't overthink it)
Cut through the silence, I've got no patience (all that I needed)
We're knocking on forbidden doors

Glorietta

Like a gift from the Earth wrapped up in chemtrails
Fluorescent glow of Glorietta
Like a rift in the Earth erupting arrows
And magnetic fields, Glorietta
Their patriotic displays are so loud
I can't see the sunset through the sound
You can't resist the urge to dominate
Like it was a biblical mandate

Glorietta
Glorietta

Just like watching planes in the sunlight
Paving all over the shoreline
Can't believe what it looks like
We're doing whatever feels good
I could hold you tight
On the way down, it'll bе alright

Watch them dive through the sky
In a v-formation
It's raining in on Gloriеtta
She's blank as the walls, adorned with silos
Like concrete halos, Glorietta

Thei patriotic displays are so loud
They're controlling Eden from the clouds
You can't resist the urge to dominate
Like it's written in your DNA

Just like watching planes in the sunlight
Paving all over the shoreline
Can't believe what it looks like
I only want it to feel good

Like a gift from the Earth, look up, no halos
Wrapped up in chemtrails, erupting arrows
And magnetic fields
She's blank as the walls
Out of the ashes, she's Lazarus
Wrapped up in chemtrails
Watch them rise and fall
In v-formation
I can feel it in my teeth

She's as blank as the walls
She's as blank as the walls
I can't see through the sound
I can't see through the sound
She's as blank as the walls
I can't see through the sound
She's as blank as the walls

Let's Make A Mistake Tonight

Let's make a mistake tonight
Like palm trees in the twilight
Let's turn water into wine
We're gonna find something better
Let's cruise in the vesper night
Concrete in the headlights
Wheels set in their arc like gods
We're gonna find something better

For every mile of pavement
You and I making a statement
I don't know what I expected
But now you see what I'm left with

If I see nothing, then nothing's there
I close my eyes tight, but I can't remember
You could deny me, but I know what I want
I can feel it in my body

Hand on the wheel
Hand on my thigh
Closing our eyes

Let's make a mistake tonight
Concrete in the headlights
Drive west till there's nothing left
We're gonna find something better

Whatever's crowding my vision
I will it out of existence
I don't know what I expected
But now you see what I'm left with

If I see nothing, then nothing's there
I close my eyes tight, but I can't remember
You could deny me, but I know what I want
I can feel it in my body

I don't know what I expected
With every moment suspended
I don't know what I expected
But now you see what I'm left with

I can't help it, I can't walk away
Take my pain with pleasure any day
We live on the ashes, nothing could get past us
We move faster
I can't help it, no
I'd never walk away
Take my pain with pleasure every day
Living on the ashes, everything burned past us
We're holding the matches

Hand on the wheel
Hand on my thigh
Driving all night
Hand on the wheel
Hand on my thigh
Closing our eyes

One Night With The Valet

White doves come down
I'm out here standing in the wind
And even now I'm tempted by the face of love
I feel it coming like a flood

Finding myself tempted by the face of love
Really fear that I could never get enough
I'm riding high up watching over silent things
Like pearls scattered at our feet

Top down, head in the clouds
You get yours from us
My baby in the physical world
Tell me you get yours from us
(Not enough doors)
Top down, head in the clouds
(Not еnough heat)
You get yours from us
(Not enough crowds)
My baby in thе physical world
(Not enough heat)
Tell me you get yours from us

I'm riding up I'm watching over silent things
Like pearls scattered at our feet
And even now I'm tempted by the face of love
I feel it coming like a flood

Pollen Song

You point to the trail where the blossoms have fallen
But all I can see is the pollen fucking me up
Everything moves too fast, but I've
Been doing the same thing a thousand times over
But I'm brought to my knees by the clover
And it feels like it's just the pollen

Blowing in the wind
Growing back again
Through the pouring rain
I have said in vain

I could get ahead
You know, you know
I could get ahead
I could get ahead
You know, you know
I could get ahead

We follow the trail where the blossoms have fallen
But all I can think of is the pollen fucking me up
Everything moves too fast, oh I
Don't know when my body became so fragile
Even a spring rain is too much to handle
And it feels like it's just the pollen

Raining from the trees
Carpeting the streets
Through the pouring rain
I have said in vain

I could get ahead
You know, you know
I could get ahead
I could get ahead
You know, you know
I could get ahead

Baby, you and I
We go cruising over highways
Your hand on my thigh
I got one hand out the window
You and I check out the sky
We go cruising over highways
Your hand on my thigh
I got one hand out the window
Baby, you and I
We go cruising over highways
Baby, check out the sky
I got one hand out the window
Your hand on my thigh
I got one hand out the window
I got one hand out the window

Hotel Valet

I've been up
In the clouds
Only you can
Bring me back to my body

You worked the graveyards and you slept through the day
Wearing the uniform of hotel valet
I worked the kitchen when I carried your plate
Who would have known that I was serving you fate

What had I been doing
Was I at the door listening
What had I been doing
Was I at the door listening
What had I been doing
Was I at the door listening
To your frantic Latin
I was at the door
I was at the door

Down my neck
Beads of sweat
Nothing untouched
Not my face, not my body

You worked the graveyards and you slept through the day
Wearing the uniform of hotel valet
I worked the kitchen when I carried your plate
Who would have known that I was serving you fate

Been to the fountain
Drink from the fountain

What had I been doing
Was I at the door listening
What had I been doing
Was I at the door listening
What had I been doing
Was I at the door listening
To your frantic Latin
To a stone cold miracle

Baby, I've been stacking cups
Over and under, I raised the stakes
Saw the sun come up, rearranging cups
In and out of the kitchen
Hands full of plates
Hands full of plates

Paper

Early morning
Quiet in the springtime
Without warning
Passing in a fever
Sweet as honey
Flowers in a thin rain
(Flowers in a thin rain)
Daylight driving
Me back to your arms
(Back to your arms)

We've been rising from the ground
Can't keep my head out of the clouds
Another plane to carry the sound like echoes
I work real hard, but I'll never be sure
To provide for my baby in the physical world
But you don't care about material things like paper

When you know, you know
It's better with your eyes closed

We draw circles
Halo in the skyline
Through the window
Caught up in a breeze
Early morning
Stretching over hours
(Stretching over hours)
While you go on
Talking in your sleep

Can you get it, it's subtle and quick
Feel the earth begin to shift
How can anything contradict our nature (our nature)

I work real hard, but I'll never be sure
To provide for my baby in the physical world
But you don't care about material things like paper (like paper)
We've been rising from the ground
Can't keep my head out of the clouds
Another plane to carry the sound like echos (like echoes)

All I hope for takes me deeper
With never any plan, only echoes
All I hope for takes me deeper
With never any plan, only echoes

Gibraltar

Hung out in Gibraltar
Hung out until October
Footsteps on the brown earth
Open the door, we can live
Just you and me in the free air
Blue breezes through arterial streets

Hung out on a hairpin turn
Make our slow ascent
Earthbound constellations
Red clay to the horizon
Take a step, we're on the air
Take a step, we're better
You and I live on the air
You and I live on the air

I see Gibraltar
I could never hold you
Can't speak 'cause I falter
I remember nothing
I could leave everything
You and I can take our time
I see Gibraltar

Hung out in the fast lane
Light up a hurricane
Strike a match, hair screaming
Open the door, we can live
Just like a moth to a flame
Blue breezes through arterial streets

Take a step, we're on the air
Take a step, we're better
You and I live on the air
You and I live

I see Gibraltar
I could never hold you
Can't speak 'cause I falter
I remember nothing
I believe everything
That was ever whispered to me

I see Gibraltar
I could never hold you
Can't speak 'cause I falter
I remember nothing
I could leave everything
You and I can take our time
I see Gibraltar
I see Gibraltar

Never Been Wrong

I've never been wrong about anything or anyone
Irrefutable as the rising tide or setting sun
How can I work with all of this inexactness
It's like doing needle point with a hatchet

I cannot hold the bright gaze of everything
And project a smile like sky split above the rain
How can I suffer through another sunset
It's like doing needle point with a hatchet

For a long time
I would obsess
I read the signs
But couldn't get past it

Lingua dicere potest non quid nescitur
Tu ne quaesieris visum miraculum
Lingua dicerе potest non quid nescitur

For a long time
I was obsеssed
It came to a point
I couldn't get passed it

You ask, but don't mind
You are the staff striking the rock
I don't know how
It's never enough
I don't know how
It's never enough

Pillow For A Cloud

If only I could think and feel along
Over seven paths at once
If only I could think and feel along
Over seven paths at once
I'd never let you down
If only you and I could linger on
Way up higher in your arms
Got a pillow for a cloud

Living on sighs taking our time
Before it takes us over

If only you and I began again
Instead of reliving old sins
I'd never let you down
If only you and I could ask the dust
What it's ever done for us
I'd never let you down

Time passing used to thrill me
Now it only terrorizes me
And it's evidence carved into my skin
And over everything I ever loved
Time passing used to thrill me
Now it only terrorizes me
And it's evidence carved into my skin
And over everything I ever loved

Never coming down
Got a pillow for a cloud
Never coming down
Got a pillow for a cloud
Never coming down
Got a pillow for a cloud
Never coming down
Got a pillow for a cloud
Never coming down
NON ALBUMS TRACKS

100 Lovers

(Small Sound EP)

One hundred lovers ago
That's when I met him and now you know
One hundred lovers ago
He was a heartbreaker
He was a heartbreaker

Melissa was her name at that time
She was a poet with hair that shined
I never thought I could make you mine
A fate to which I had been resigned

One hundred loves will make you bold
One hundred more will make you cold
Oh he was a heartbreaker
One hundred loves will make you bold
One hundred more will make you cold
Oh he was a heartbreaker

And I will laugh until I'm tired
I will burn with a strange desire

I watched each girl come and go
For years I waited, but could not show
One hundred lovers ago
Back then I loved him and now you know

One hundred loves will make you bold
One hundred more will make you cold
Oh he was a heartbreaker
One hundred loves will make you bold
One hundred more will make you cold
Oh he was a heartbreaker

And I will laugh until I'm tired
I will burn with a strange desire
And I will laugh until I'm tired
I will burn with a strange desire

Born To Be Needed

(We Can Die Happy EP)

Baby, I was born to be needed
Baby, I was born to be needed

I always resisted
Conventions like mister and missus
But I do it, do it, do it again
Do it, do it, do it again

Immune to biology
It's a lonely road to autonomy
But I would do it, do it, do it again
Do it, do it, do it again

Why should I deny myself
Never really cared about my health
The simple kind of life
Cuts through me like a sharpened knife

Baby, I was born to be needed
Baby, I was born to be needed

Motherhood might do me good
At least that's been the word around the neighborhood
We're born into it, do it, do it again
Do it, do it, do it again
I know it's an old refrain
But the need hit me like a hurricane
I'd fall into it, do it, do it again
Do it, do it, do it again

Why should I deny myself
Never really cared about my health
The simple kind of life
Cuts through me like a sharpened knife

Baby, I was born to be needed
If my heart can't take it, then maybe
I will give right into the feeling

Baby, I was born to be needed
If my heart can't take it, then maybe
I will give right into the feeling

Borrowed Time

(Rick And Morty OST)

I thought that the sun burned brighter
With you by my side
And that we'd go on forever
Together you and I
Now I'm waking from a dream
I've been following you foolishly
Leaving you is hard for me
But I gotta do what's right for me

Thought we'd go on, you by my side
Forever, you and I
We raised hell, every night
Together, you and I

I thought the world stopped turning
Without you by my side
How we burned it down together
Every single night
Now I'm waking from a dream
I've been following you foolishly
You were playing God with me
And I bought it all completely

Honestly, I
Sometimes I've been good for you
I'm not dreaming
You're already leaving me

Thought we'd go on, you by my side
Forever, you and I
We raised hell, every night
Together, you and I

Running on borrowed time
Forever, you and I
Thought we'd go on, you by my side
Together, you and I

Building God

(We Can Die Happy EP)

You were looking for devotion
Made of promises in motion
I can change, I can change, I can change
Never could find a way to explain
We're only building God
Until we have the one that we want

As I said with hands that quiver
Gesturing over our dinner
I can change, I can change, I can change
Let me be what you need, it's okay
We're only building God
Until we have the one that we want

What my heart is hoping for
What my heart is hoping for
What my heart is hoping for
What my heart is hoping for
What my heart is hoping for
What my heart is hoping for

Cured Of Youth

(Small Sound EP)

Her steps delicate
Who can resist
So easily upstaged
That really I'm amazed
With eyes alight and her hair so bright
Like I'll never find, never find anything so divine
Here's your one chance, baby, I know you can
Here's your one chance, got them in the palm of your hand

Now show the world what you're worth
Make an entrance at the doorway
Best not to remember that baby, it ain't easy

She might leave the mark
But that's just the start
Hard to be self aware
To be the one who cares
It's when she's close that I feel the most
Like I'll never find, never find anything so divine
Here's your one chance, baby, this is your night
Here's your one chance, better hope you get this right

Now show the world what you're worth
Make an entrance at the doorway
Best not to remember that baby, it ain't easy

Deep In The Woods

I'll bring down this house, I'll creep in and out
The thieves of the wind leaving no trace about
But all that I touch will be changed beyond doubt
Mind you, I'll mind you are mine to protect
I will watch over you, who will suspect
Deep in the woods where no one can detect

In the woods, something glowing
A burning light has started growing
It feels like a change is upon us at last
Consuming us fast, change is upon us

The smoke in the night, the ash on the light
I think that it might be the last thing in sight
I know I am right to let you be consumed by the light

The curse on this house has been cast throughout
Only I know what lingers without
All that is left will be proof beyond doubt
Bury my love right deep in the ground
Hide them from watchful eyes all around
Save for the treasure that cannot be found

In the woods, something glowing
A burning light has started growing
It feels like a change is upon us at last
Consuming us fast, change is upon us

In the woods, something glowing
A burning light has started growing
It feels like a change is upon us at last
Consuming us fast, change is upon us

The smoke in the night, the ash on the light
I think that it might be the last thing in sight
I know I am right to let you be consumed by

The smoke in the night, the ash on the light
I think that it might be the last thing in sight
I know I am right to let you be consumed
I know I am right to let you be consumed by the light

Diamond Rings

(We Can Die Happy EP)

I've been looking at your diamond rings
And reflecting on the things they tell me
That they move too quick to misbehave
A dissenter cannot be a slave
I'm waiting on you to make my heart move
Baby, won't you come to me
Come and make my heart move

Time to light the lamp and trim the wick
I see crimson through a colored slit, oh yeah
Waiting for the day I change my name
I've been told it doesn't mean a thing
I'm waiting on you to make my heart move
Baby, won't you come to me
Really make my heart move

Come and make my heart move, baby
Oh baby, I'm waiting for the magic
Come and make heart move, baby
Oh baby, I'm waiting for the magic
Come and make heart move, baby
Oh baby, I'm waiting for the magic
Come and make heart move, baby
Oh baby, I'm waiting for the magic

Dimming Light

(Small Sound EP)

Silently, you slip through the way
Graceful, you move beneath the living room
I know it's you

A vision I held in the night
Of rivers that run dry
Although you're lying next to me
I know that you're not mine

Is it ever enough to know what you're looking for
Is it ever enough to have what you're waiting for
When the night comes, we will be restored
You're the one that I love

Silently, you slip through the way
Graceful, you move beneath the living room
I know it's you

If I could form a heady phrase
Or hold a steady gaze
And maybe you'd appear to me
Transparent as the day

Is it ever enough to know what you're looking for
Is it ever enough to have what you're waiting for
When the night comes, we will be restored
You're the one that I love

Is it ever enough to know what you're looking for
Is it ever enough to have what you're waiting for
When the night comes, we will be restored
You're the one that I love

Guiding Light

(Television cover)

Do I, do I
Belong to the night
Only, only
Only tonight

All the ladies
Stay inside
Time may freeze
A world could cry

All this night
Running loud
I hear the whispers
And I hear the shouts
And though they never
Cry for help

Tell me who sends these
Infamous gifts
To make such a promise
And make such a slip

Oh no
Can't pull a trick
Never the rose
Without the prick
Oh but tell me
How do I say
I woke up
And it's yesterday

Do I again
Face this night
Guiding light, guiding light
Guiding through these nights

Darling, darling
Do we part like the seas
The roaring shells
The drifting of the leaves

But all intent
Remains unknown
It's time to sit up
Up in the throne
You've seen before
But it's always new
So look close
See who's come through

Never again
To face this night
Guiding light, guiding light
Guiding through these nights
Holiday Road

(Lindsey Buckingham cover)

I found out long ago
It's a long way down the holiday road
Holiday road
Holiday road

Jack be nimble, Jack be quick
Take a ride on down the West Coast kick
Holiday road
Holiday road
Holiday road
Holiday road

I found out long ago
It's a long way down the holiday road
Holiday road
Holiday road
Holiday road
Holiday road
I Miss That Feeling

(We Can Die Happy EP)

I can be true to you even when losing
Every little thing I've ever known
And all of the love I've ever show
Something like pleasure, you'd never believe it
Every little need dismantling
Recorded by the needle of an EKG

I miss that feeling
Flicker hot and hovering
Like my own discovering
Eagerly, tenderly
I miss that feeling
Flicker spread into an itch
Into a burn, into a twitch
Slow and even

How to explain it or even contain it
When I feel that ragged edge descend
My heart splits open like a vent
Something like pleasure, you'd never believe it
Every little thing starts trembling
Recorded by the needle of an EKG

I miss that feeling
Flicker hot and hovering
Like my own discovering
Eagerly, tenderly
I miss that feeling
Flicker spread into an itch
Into a burn, into a twitch
Slow and even

I miss that feeling, I miss that feeling
I miss that feeling, I miss that feeling
I miss that feeling, I miss that feeling
I miss that feeling, I miss that feeling

Is It True

(Brenda Lee cover)

Listening to the talk that's going around town
Everywhere I look, they're spreading it around
Saying that you've gone and found another one
Is it true, my love oh

What about the ring you gave me yesterday
Is it hard for me to throw it all away
As you said goodbye, if you have no lie
Is it true, my love oh

Don't you know, don't you know
That you're making me blue
Baby, baby, say it isn't, say it isn't true

Everywhere I look, the story looks the same
Everyone I meet is whispering your name
Saying that you've gone and found another one
Is it true, my love oh

As you said goodbye, if you have no lie
Is it true, my love oh

Don't you know, don't you know
That you're making me blue
Baby, baby, say it isn't, say it isn't true

Everywhere I look, the story looks the same
Everyone I meet is whispering your name
Saying that you've gone and found another one
Is it true, my love oh
Mean Streets

(Small Sound EP)

Summer up in the Catskills, baby
Singing just for the thrill
Everyone knows all about you, don't they
You're doing it for the thrill

Whatever's left, you'll find
You've got to give it what you got now
You've got to give it what you got
Baby, it's true, we leave nothing for you
You've got to give it what you got now
You've got to give it what you got

Laura, there's nothing wrong with fame
Laura, you'll never be the same

Didn't you know they would love you, baby
Even more, now that you're gone
Leaving them surreptitiously
Could make a hit out of any song

Whatever's left, you'll find
You've got to give it what you got now
You've got to give it what you got
Stay, on your own, or leave it alone
You've got to give it what you got now
You've got to give it what you got

Laura, there's nothing wrong with fame
Laura, you'll never be the same

Born and raised on the mean streets
That's where she learned how to keep the beat
Some say that girl's got something
I heard her name half a million times
Hustling in the mean streets (Laura)
That's where she learned how to keep the beat (Laura)
Some say that girl's got something (Laura)
I heard her name half a million times (Laura)

No Exit

(We Can Die Happy EP)

I've got a little bit left, I know
That I can give a little bit
I've got a little bit left, I know
That I can give a little bit

It's starting all over again
I feel my heart beat quickening
Anachronistic, a young mystic
He's prowling around in the night
Under a shadow wherever we go
Whatever I need to survive

We go down, down to the deep void
Right back into place, I can breathe again
We go down, down to the beat boy
Right back into place
From where we are, we're never gonna come back
From where we are, we're never gonna come back

I am ecstatic like a hymn
In that the feeling's disciplined
Apocalyptic, my own mystic
I'm moving right into the end
Under a shadow wherever we go
Our features again and again

We go down, down to the deep void
Right back into place, I can breathe again
We go down, down to the beat boy
Right back into place
From where we are, we're never gonna come back
From where we are, we're never gonna come back

I've got a little bit left, I know
That I can give a little bit, ah
I've got a little bit left, I know
That I can give a little bit, ah

We could die tonight
We could die tonight
Oh my God, I feel like I'm dying
Die tonight, we could die tonight
Oh my God, I feel like I'm dying

From where we are, we're never gonna come back
From where we are, we're never gonna come back
From where we are, we're never gonna come back
From where we are, we're never gonna come back

Superstar

(The Carpenters cover)

Long ago and oh so far away
I fell in love with you
Before the second show
Your guitar, it sounds so sweet and clear
But you're not really here
It's just the radio

Don't you remember you told me you loved me, baby
You said you'd be coming back this way again, baby
Baby, baby, baby, baby, oh baby
I love you, I really do

Loneliness is such a sad affair
And I can hardly wait
To be with you again
What to say to make you come again
Come back to me again
And play your sad guitar

I've been lonely
And I can hardly wait
To be with you again

Don't you remember you told me you loved me, baby
You said you'd be coming back this way again, baby
Baby, baby, baby, baby, oh baby

Don't you remember you told me you loved me, baby
(Don't you remember you told me you loved me)
You said you'd be coming back this way again, baby
Baby, baby, baby, baby, oh baby
I love you, I really do
Tears In The Typing Pool

(Broadcast cover)

Succumb to the line
The finishing time
The long distance runner
Has stopped on the corner
But I won't give up
Although I've stopped too

Before the end of me and you
The patchwork explains
The land is unchanged

Interpret the rooms
My tears in the typing pool
The letters are sighing
The ink is still drying
I told you the truth
And now I sigh too

The page turns on me and you
Across that white plain
The land is unchanged

Tell Her No

(The Zombies cover)

And if she should tell you, "Come closer"
And if she tempts you with her charms

Tell her no, no, no, no, no-no-no-no
No, no, no, no, no-no-no-no
No, no, no, no
Don't hurt me now for her love belongs to me

And if she should tell you, "I love you"
And if she tempts you with her charms
Tell her no, no, no, no, no-no-no-no
No, no, no, no, no-no-no-no
(Don't let her down from your arms)
No, no, no, no
Don't hurt me now for her love belongs to me

I know she's the kind of girl
Who'd throw my love away
But I still love her so
Don't hurt me now
Don't hurt me now

If she tells you, "I love you"
Just remember she said that to me
Tell her no, no, no, no, no-no-no-no
No, no, no, no, no-no-no-no
(Don't take her love from my arms)
No, no, no, no
Don't leave me now for her love belongs to me